Park Rates
$40 PER NIGHT ($36 WITH GOOD SAM OR SENIOR DISCOUNT) FOR UP TO 2 PEOPLE PER RV. $2.00 DAILY FEE PER ADDITIONAL PERSON. FULL HOOKUPS INCLUDED IN PRICE. We Accept Checks or Cash only. No Credit Cards At this Time.
NOTICE: WE ARE WIRED FOR 30 AMPS,  USE OF ELECTRIC APPLIANCES SHOULD BE LIMITED TO AVOID TRIPPING CIRCUIT BREAKERS. We cannot accommodate 50 amps.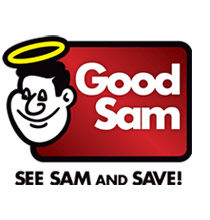 PLEASE FOLLOW THESE SIMPLE RULES.
•  Parents are responsible for the conduct and
behavior or their children at all times.
•  Dogs must be on a leash, Please CLEAN UP AFTER
YOUR PETS. No pets allowed in the office,
laundry, showers, restrooms, pool or pool area.
•    Children under 14 must be accompanied by an
adult poolside. NO FOOD OR DRINKS IN THE POOL AREA.
 Pool hours 8:00 am to dark.
•    Please help us keep the showers & restrooms clean. Adults
should accompany children to the restrooms.
•    Off Road Vehicles are not allowed in the park or on
the surrounding area.
•    No riding Skateboards, Bicycles, Etc. on the hill.
•    NO FIRES ALLOWED. NO OPEN FLAMED FIRES/CAMPFIRES ALLOWED
•    NO FIREWORKS ALLOWED AT ANYTIME!
•     Please Use Garbage cans for all trash litter.
•    Please do not drain sink water on ground, please use
sewer drain.Please do not place any Paper products down the sewers.
•    Please do not wash your RV in our park.
•    Park speed limit is 10 mph.

View Larger Map
Lat, Lon: 39.31066, -123.30557
Directions: S-bnd: From Jct of US-101 & SR-20W (in Willits), S 7 mi on US-101 to Ridgewood Ranch entrance, W 1.6 mi (L); or N-bnd: From Jct of US-101 & SR-20E (Ukiah), N 8.5 mi on US-101/SR-20 to Ridgewood Ranch entrance, W 1.6 mi (L)
Laundry facilities are located in the front Office building.
https://www.facebook.com/goldenrulerv